The Right Isn't Done With Juneteenth
Josh Marshall
As I noted below, my first reaction to the news that Juneteenth was becoming a federal holiday was shock. Given all the rightwing freak-outs we've seen about BLM, CRT, the 1619 Project and all the rest I was shocked, albeit very pleasantly, by the fact that congressional Republicans voted overwhelmingly in favor of making the day a federal holiday. In his new newsletter (The Uprising), TPM Alum Hunter Walker looks at the fourteen members of the House who voted against the holiday and their various excuses for doing so. There he notes right wing activist Charlie Kirk tweeting that Juneteenth is a kind of effort to cancel July 4th.
"America only has one Independence Day and it's on July 4th, 1776. If you're a conservative who is okay with the 'Juneteenth National Independence Day Act,' you're not paying attention to what the left is truly trying to accomplish."
Read More
| News
Nearly three months after the head of Michigan's Republican Party unveiled an audacious plan that would allow GOP legislators to circumvent the state's Democratic governor's veto to pass restrictive voting laws, the contours of the scheme remain murky.
Read More
| Muckraker
Over the past two months of infrastructure talks, there's been a constant refrain from Republican negotiators: why not just use all the unspent COVID aid money to pay for the bill?
Read More
| Cafe
As a lifelong novel consumer who enjoys throwing myself into other worlds for hours on end, it probably won't come as a surprise that I don't read too many short stories.
Read More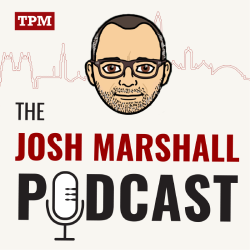 Ep. 177: Grading Garland's DOJ
Josh and Kate analyze the Department of Justice under Attorney General Merrick Garland and its pursuit of accountability (or lack thereof) for the Trump era...
MEMBER EXCLUSIVES
PRIMEWIRE